"God has a brown voice, as soft and full as beer."

Anne Sexton
This week my friends and I will be checking out some Vancouver microbreweries. The great thing about microbreweries is that they brew beer in small batches, using natural processes and ingredients, making some unique and flavourful alternatives to mass-produced products.
It's also super fun to go into a brewery and be served by the brewmaster and talk to him about what he's created. With at least 9 microbreweries in Vancouver alone (not counting those in North Vancouver and outlying areas) this project has the potential to entertain for many weekends to come. Tonight we'll be heading to 33 Acres Brewing, then on to Brassneck Brewery and finally tomorrow we'll head down to Black Kettle Brewing in North Vancouver.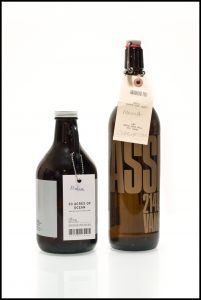 The space is very white and minimalist, warmed by long wooden tables and pops of green plant life. It's busy this Friday night, candles line the tables and a mariachi band plays in the corner. The music bounces off the concrete surfaces that define the room, mixing in with the laughter and excited chatter of the patrons. But enough about the room, it's time to drink.
I decide on a paddle, which is an assortment of 5 ounce samples, allowing me to sample each of their current beers. First up is 33 Acres of Life, a full bodied lager-ale hybrid, which is decent, carmely and frankly just a bit dull. I suppose I like my beer to bite back and Life was entirely too sedate for me.
I found my happy place in beer #2, 33 Acres of Ocean, a west coast pale ale with a deliciously floral hop, that was refreshing and nicely balanced.
Beer #3 is 33 Acres of Darkness, a german dark lager with a surprisingly mellow finish. While it's not a style I drink a lot of it was decidedly pleasant to sip.
The space is beautiful, the staff friendly and efficient and the beer is solid. Live music adds that extra something. If I lived nearby I can see this place being a regular haunt for me. The fact that everyone behind the counter sports a beard and a toque (staff uniform?) adds a tolerable splash of hipster charm to the experience.
By this point in the evening my companions are keen to make their way back to the house and the food, so we are all business at this stop. No time to sit and sip; instead we write our names on a ticket, place them around the necks of our growlers and walk up to the counter to request samples and set about choosing what to fill our bottles with. Slightly overwhelmed by the busy brewery and rapid fire samples, I wasn't able to get a real sense of the 6 beers they had on, but happily I did find a delicious beer to take home, which goes by the name of Cherubesque. This belgian strong ale is spicy and a bit fruity. My companions favoured the Passive Aggressive Pale Ale, which was a bit floral, a bit piney and quite hoppy. I think Brassneck has some good beers and I look forward to going back when I can take more time to fully appreciate their wares.
Heads hoppy and growlers heavy, this gaggle of girls heads back through the night to the house to enjoy food, beer and a game of Cards Against Humanity. I can't think of a better way to spend a January night and I look forward to continuing the tour tomorrow.
Only open a few weeks, this brewery happens to be a mere 10 minute walk from my house, which is fantastic, because as we all know proximity leads to attraction.
Set beside the railroad tracks, Black Kettle is a cute little brewery on the edge of the reserve. Disregarding the signs that tell us we're on private property we make our way inside. Owner and brewmaster greet us warmly and promptly set us up with samples of their smooth Pale Ale and grapefruity India Pale Ale, which are both quite good. The owner tells us they plan to set up more seating soon and we look forward to coming back to see how the space progresses.
I've really enjoyed visiting these breweries, meeting the staff and tasting so many amazing local brews. I hope you'll follow my lead and visit one of the many new breweries popping up all over the Lower Mainland. If you do, please let me know about your experience in the comments as I'm already planning my next beer sampling adventure.