"There was a mood of magic and frenzy to the room. Crystalline swirls of sugar and flour still lingered in the air like kite tails. And then there was the smell – the smell of hope, the kind of smell that brought people home."

Sarah Addison Allen, The Girl Who Chased the Moon
I went to my first baking class this week – a macaron making class to be exact. A macaron – not to be confused with a macaroon – is a sweet, meringue based confection made with egg whites, sugar, ground almonds and icing sugar and it tastes like heaven. The ingredients are simple but proper technique and timing makes all the difference.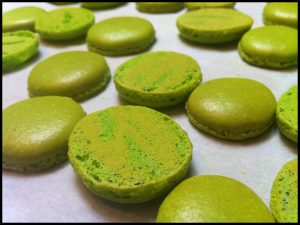 The hard truth is, while I do manage the occasional batch of chocolate chip cookies, I'm definitely no baker. So I was quite pleased when cupcake queen Caily agreed to accompany me to the class; and only slightly alarmed when she admitted that even she is intimidated by the macaron. I had no idea macarons were so difficult to make, only that I love eating them.
Worried I'll make a fool of myself at the class, I prep with a few youtube videos the day before. I end up watching 3 videos, all by the same guy. In the first video he produces some seriously ugly macarons. In the next video he says he's learned some things and he did it all wrong last time. By the third video he appears to have it down. It seems a certain willingness to fail will be required.
Getting off the bus at Alma and West 10th I wander around looking for Simply French Cafe only to discover it has recently been bought, renovated and renamed Professor and the Pigeon. After confirming I'm in the right place I sign in, take my handout and grab a seat near the front of the cafe to wait for Caily. The space is expansive and bright, with light grey walls, playful modern art and punches of yellow. The front of the cafe is full of parents with toddlers stumbling around drunkenly and I secretly hope these are not my classmates. One by one the toddlers make their way out (with their adults) and my classmates make their way in. They are mostly young and female and can be identified by the bewildered looks on their faces. I say the secret password to one or two ("Macaron?"), gently assuring them they're in the right place.
Caily arrives and we head to the back of the shop, where we gather around a large table with 3 cook stations. Our teacher Sarah introduces herself and walks us through macaron making, explaining each step as she does it. She gives us important tips to avoid the common mistakes, such as ensuring that the egg whites are room temperature and that they contain no yolks. She shows us how to whisk the egg whites to the perfect point of shiny, stiff peaks before compressing (not mixing) the sifted sugar and ground almonds into the fluffy egg whites, careful not to over mix but combining just to the point where the macaronage falls back onto itself forming ribbons.
Next up we break out into three groups to make our own batches. We beat the egg whites to the perfect point before putting in a few drops of green food colour (the other groups add red and yellow to their batches respectively), which creates an incredible and not entirely edible looking substance in the bowl. We take turns doing all of the steps that follow: measuring, sifting, compressing and piping our batter on to the parchment paper. After removing the template from beneath the parchment I take great pleasure in banging the tray on the counter a few times to release any air from the batter. Our sheets of cookies sit on the counter for 20 minutes or so (depending on consistency) before shop owner Tim pops them into the ovens.
While the cookies bake we take a break to enjoy some sparkling wine and a sampler of desserts before returning to learn how to make our buttercream filling. Our group makes an Earl Grey buttercream filling, while the other groups do a raspberry vanilla and a chocolate ganache. We pipe the filling onto the underside of one cookie, place another cookie on top and the macarons are off to the freezer to set briefly. Once they have set we are invited to taste them and fill a little box with an assortment of colours and flavours to take away.
Veins full of sparking wine as I head home, I am proud of my delicious (if slightly "unique" looking) confections and I find myself wondering: now that I know how to brew beer and make macarons, what else do I really need to know?