"In every walk with nature one receives far more than he seeks."

John Muir
This week Emrys and I are off to Squamish to check out the Sea to Sky Gondola. Just opened in May, this 10 minute gondola ride rises to 885 feet above sea level, providing sweeping views of Howe Sound.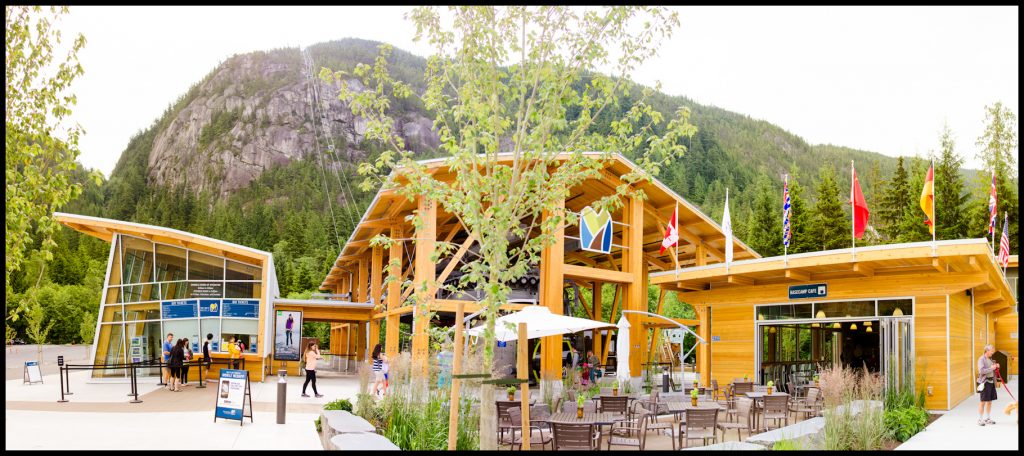 We wake up early (as usual), grab a quick coffee and breakfast sandwich and we're on the road to Squamish. It's a 30 minute drive through some stunning scenery and some seriously winding roads. Damn, I forgot how much I hate this highway. In case you hadn't guessed it, I'm a nervous passenger. Emrys is, as always, undaunted by the winding road and seems to enjoy hugging the curves. "What time does it open?" he asks. "Nine a.m." I reply. Looking at the clock I note it's 9:03 and Emrys seems to be speeding up, so I add "You know, we don't have to get there for nine." "That's good" he replies, "we'd need to get up to at least 88 miles per hour and would need one point twenty-one jigowatts of electricity to power the flux capacitor to do that."
And so we continue on down the winding highway and Emrys regales me with tales of stealing the sign for nearby M Creek as a teenager. "Although, it's called something else now anyway" he continues "It has a native name." It seems all of the rivers and parks have native names these days; it's very trendy. We wonder if the native names displayed are actually what people called these areas or if they were arbitrarily chosen to appeal to tourists?
We arrive at 9:30 a.m. and buy our lift tickets. At $35 per person (for a ride up and down) this better be damn good. The infrastructure is all new and beautiful, with lots of young, blond wood and open, modern spaces. Climbing aboard the gondola, I notice that the car itself is much smaller than those on the Grouse Grind, but very spacious with lots of window; frankly, it's a little bit freaky how open it feels. It's a ten minute vertical climb up the mountain side. As the car rises high into the air, Howe Sound reveals itself to us in sparkling turquoise below. The view of the sea and snow capped mountains is truly awe inspiring. Taking in the majestic views I try not to imagine plunging to my death.
At the top, the gondola drops us off in front of  Summit Lodge, which contains a restaurant, gift shop and washrooms. After using their facilities we carry on to the Sky Pilot Suspension Bridge. The bridge is kind of cool but not that impressive compared to Lynn Canyon Suspension Bridge. The bridge leads you to the Spirit Trail Viewing Platform. After taking in the view from the platform we head off down Panorama Trail, a meandering 1.6 kilometre hike through various areas of alpine forest. We stop on the way at Squamish Valley Viewpoint and The Chief Viewing Platform. The viewpoints are stunning if a bit crowded with tourists; however we find lots of little details to enjoy along the way. The alpine forest up here is a bit different than what I'm used to, with lots of Western Hemlock and some Western Red Cedar, Douglas Fir, Red Alder and Black Cottonwood. We spot a Stellers Jay and a Raven soaring through the treetops, enjoy the refreshing alpine air and are only moderately annoyed by a parade of bugs which seem to follow us around.
The trail loops back around and before long we find ourselves back at Summit Lodge. Not quite ready to head home we take the gondola back down the mountain and stop in at Howe Sound Brewing, where I enjoy a Total Eclipse of the Hop and Lamb Burger and Emrys savours a Whitecap Wheat Ale with his Garabaldi Burger. At 90 IBUs the Total Eclipse is freaking hoptastic and I love it. The Wheat Ale is very smooth, with its coriander and orange peel accents and perfectly suited to sitting on a patio in the sunshine.
It's stunning country and the delicious local beer feels like the perfect way to round off a great day.