"I can live for two months on a good compliment."

Mark Twain
This week I'm taking a day to tell people the nice things I think about them. I'm always admiring people but am too shy to tell them. But really, getting a genuine and unexpected compliment is one of the best feelings ever, isn't it?
With this in mind I head down to the Seabus on my way to work, scanning the crowd for someone to compliment. And I can't see a single person who looks good. In fact, I've never seen a more drab crowd of sea farers, all clad in baggy black and grey outfits of boredom. Not a single outfit, hairstyle or accessory stands out; no one does anything obviously commendable.
At work no one has worn anything that appeals to me and I begin to wonder how this will work. Luckily I do notice that one of my coworkers is extremely well organized and I tell her how impressed I am with the state of her files. She glows with the comment and I myself feel suddenly more competent.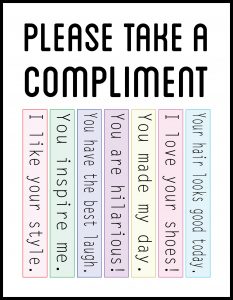 I manage to see a couple outfits throughout the day that I like and I enjoy telling people how great they look. I feel more attractive.
Later at a restaurant, having enjoyed a nice meal with our cute as a button, super friendly waitress I fill out the comment card to tell management how great she is. I feel friendly and extroverted.
An awareness emerges in all of this. Besides the fact that I myself somehow take on some of each of the traits I acknowledge, I realize that in order to compliment people you have to be open to them. You have to engage people and engaging people makes you feel incredibly alive.
In retrospect I don't think my shyness has ever prevented me from complimenting people. My reluctance to compliment has far more to do with being detached and distracted by my own world of concerns. But in order to compliment people for a day I am fully tuned in to what's going on around me. I'm open, talking with and engaging people and I love it. I love every moment of it.