"All relaxation does is allow the truth to be felt. The mind is cleared, like a dirty window wiped clean, and the magnitude of what we might ordinarily take for granted inspires tears."

ay Michaelson
This week I'm excited to be visiting Miraj Hammam Spa. While I have faked a spa day before, this will be my first actual spa experience, and a hammam spa at that. The spa is fashioned on the ancient bathhouses of Turkey and bills itself as a place of cleansing and healing for body and soul. While hammams began as a ritual for physical purification centuries ago, possibly in Greek or Roman times, they have since evolved into an experience of pure indulgence, with treatments to calm the mind and coax tension from knotted muscles.
It's all part of my girlfriend's stagette, the first stop in a day of fun and debauchery. The plan is to start the afternoon with a Hammam & Gommage, which is a steam and exfoliation, followed by a massage. After our massages we'll retreat to the Sultana Lounge, to recline on silk pillows and enjoy some moroccan mint tea and sweet cakes, before heading out for the night. It all sounds like a very promising start to a stagette!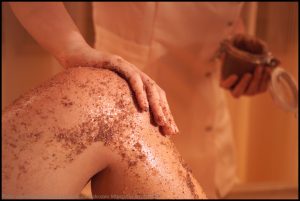 I meet the girls just outside the spa at Granville and 6th and we head in. The reception area is softly lit, with terra cotta tile work and ironwork windows. In the centre of the room is a gently splashing fountain, with seating all around. The receptionist greets us and invites us to have a seat, remove our shoes, slip into some sandals and fill out the requisite forms.
Forms complete, we are head into the change room and are given a bit of an orientation. We are invited to change out of our clothes, place them in a locker and don one of the sarongs which are neatly folded on the bench in front of us. Our attendant says she'll be back shortly to take us into the steam rooms.
After she leaves the room we all stand staring at each other awkwardly before slowly beginning to disrobe, carefully shimmying out of our layers as we struggle to undress discreetly in the tiny space. Somehow we all manage to get undressed, shower and wrap ourselves in a sarong. Shannon discovers disposable underwear by the sink which Ms. May promptly dons as a shower cap. It's a good look and I dare her to keep it on throughout her spa experience, but she declines. Our guide returns, pours us tall metal cups of cool water and leads us into the hammam.
As we enter the dimly lit 400 square foot hammam, I am surprised by how steamy it is. To my further surprise this is just the outer chamber (the warm room) where the temperature peaks at 95 degrees. She points us to the glass enclosed, intense steam chamber at the centre of the room (the hot room), where we are to spend most of our time and where the temperature can rise to 120 degrees and the steam gets so thick you can't see a thing.
Unable to wear her glasses in the steamy room, Shannon asks where the door handle is to the glass enclosure, saying "help me, I'm blind". After being briefly amused by her helplessness we do assist her but fail to appreciate that the spa attendant now thinks Shannon is actually blind and continues to treat her as such throughout her gommage; which is mostly useful if slightly misleading.
We all hang out in the hot room for about 15 minutes – which smells deliciously of lemongrass and eucalyptus – chatting, sipping at our cool water and breathing in the steam before we are invited out, one by one, into the warm room for our gommage (exfoliation).
Soon it's my turn and I head out into the warm room, lay my sarong down on the marble as instructed, lay face down with a little towel pillow under my head and get scrubbed down, head to toe, with black moroccan soap. Naked. Did I mention that part?
Once my back side is finished I flip over and have my front done. The scrubbing is like a little massage and quite enjoyable. Finally I am asked to stand so that the attendant can shower me down, front and back. It's a curious thing being bathed by another person but I am happy to report that the whole experience is incredibly nurturing and not nearly as odd as I thought it might be.
After the gommage, I dry off, don a robe and head to the lounge where I lay about on pillows, peruse magazines and chat with the girls before being lead off to a small adjoining room for my 15 minute massage. By now my muscles are extremely relaxed and my massage with pure essential oils is the final piece of the puzzle, completely draining any last bit of tension from my body. Admittedly it's not a super deep massage – which I tend to prefer – but in my relaxed state it totally does the trick.
Returning to the lounge after my massage, the girls are all there lounging and enjoying tiny cups of moroccan mint tea with delicious cookies. The cookie and tea combo is perfectly refreshing after the steam and massage and just as I'm wondering if this day could possibly get any better, Shannon pulls out a bottle of chilled prosecco that our friend Raeanne dropped off earlier and I have my answer. Yes, yes it can!
We toast to Ms. May and languidly sip at our prosecco, revelling in each others company and savouring our last moments in this delightful oasis. Before long it's time to head back to the change room, get dressed and head out into the evening and all the fun to follow, utterly refreshed and relaxed.