"The mountains, I become a part of it… The morning mists, the clouds, the gathering waters, I become a part of it."

Navajo Chant
This week I'm off to Cypress Provincial Park to hike Bowen Lookout Trail.
I've been living on the North Shore for over two years and have been meaning to check out the local trails for awhile now; so I'm pretty excited to finally be heading up with my friend Coral, who is an experienced hiker. It's a beautiful, sunny morning as I emerge from my building and head across the street to Starbucks to pick up a coffee and wait for my ride.
I sip my coffee and soak up some morning sun. Coral arrives a few minutes later looking remarkably well for someone who attended beer pong the night before. Clearly she's a pro. A few minutes later her friend Megan drives up, we load into Megan's van and we're off.
On the way up the mountain I learn that Coral and Megan used to work at a law firm together many years ago and now Megan is off to volunteer in an orphanage and hike Matchu Picchu on Monday; so today will be hiking practice. As we pull into the parking lot at Cypress Mountain downhill ski area, we notice signs announcing 5 Peaks Race are everywhere. Oh no; apparently we've chosen race day for our hike!
We eventually find a parking spot on the busy mountain, boot up, make a pit stop at the washrooms and head to the trail. As we make our way up Bowen Lookout Trail we are met with a steady stream of people running down. It's all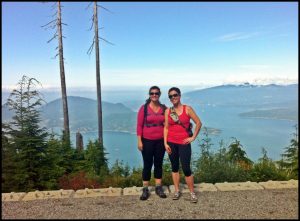 a bit busier than I'd hoped but everyone is friendly with lots of "good mornings" coming our way as they charge past. The trail starts off easy before turning into steep switchbacks and bigger rocks about 10 minutes in. It's not Grouse Grind steep but it's fairly steep and it's definatly making me work now. The landscape around us is sub-alpine and the air cool and refreshing.
After about 30 minutes the race crowds thin out until we are finally alone on the trail. On the way up Coral advises Megan on preparations for her upcoming adventure and I learn some of the important considerations for long hikes, including: hiking poles (which Coral has brought for Megan to try out today), merino wool clothing (you won't smell bad if you can't wash it) and water sterilizing droplets (because diarrhea and hiking are not a fun combo).
It's a relaxed 45 minute hike to our destination of Bowen Lookout, which features an amazing view out over Howe Sound. We stop for a bit, have
a quick photo shoot (smile ladies) and talk shop (law firm stories) as we stare out over the water.
Before long it's time to head back. On our way back we opt for an alternate route, which winds its way through the marshy, sub-alpine meadows of Yew Lake. What is it about marshy meadows that I find so mesmerizing? Is it the tall grasses, the water lilies or the sweet smell in the air? Whatever it is, I just want to lie down and dissolve into the fecund, marshy lake. I want to be part of it.
Before long we're back at the parking lot and it's time to head back into civilization and our busy lives. There is after all visiting family to entertain, second jobs to go to and a child's 5th birthday party to host; but what a sweet escape this morning was.